AR technology in use by industry leaders
Many companies use AR solutions. Why is that? It's simple: augmented reality gives companies advantages:
High-tech products are illustrated in an easily understandable way with AR

Extensive information structured in a targeted manner and filtered according to use
The fields of application are diverse and not limited to certain industries or business sectors. Ideas and corresponding hardware are in constant development. And the best thing about it: AR solutions can be perfectly adapted to the individual challenges of different markets and companies and can be used profitably.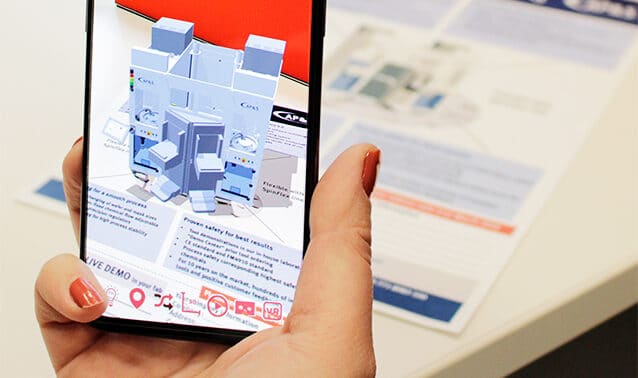 Augmented Reality?
What's behind it
Augmented reality combines physical reality with a virtual world. The augmented presenter brings your products to life as 3D models - wherever and whenever. You and your customer can place, move and interact with the virtual objects in real space, just as if the products were physically present right in front of you. Thanks to the three-dimensional capture of the space, the virtual models can be either in miniature format or in the original product size, fixed to the real environment or placed freely.
Simple catalogues and PowerPoint presentations were yesterday. With the augmented presenter, you can convince your customers by placing the finished product, such as a machine, directly on the meeting table as a mini 3D model or directly on the production floor in its original size . The interactive product presentation generates curiosity and makes the dialogue exciting. Technical details and product adjustments can be optimally coordinated on the 3D model.
Of course, you don't want to and don't have to do without classic print media: these are simply enhanced with AR solutions. By scanning an image marker or an integrated QR code, your customer can quickly access your individual customer app. They can view and interact with your 3D product models using any smart device such as a mobile phone or tablet.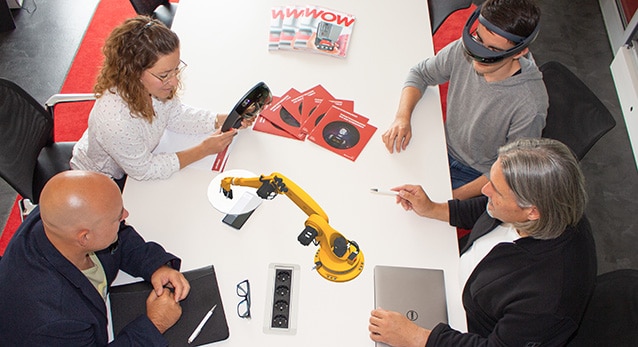 3D models can also be easily and uncomplicatedly integrated into company websites, so that your customers can dive into the exciting world of Mixed Reality with your 3D product models directly on their desktop. with your 3D product models.
Virtual presentations, animated product presentations on the desktop, smart device or via AR glasses - everything is possible. Once implemented, your 3D product models can be used in a variety of ways.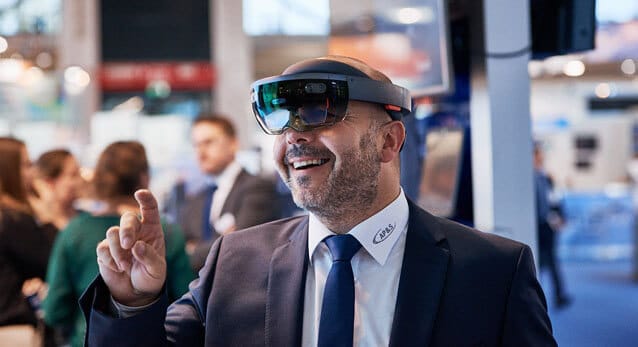 Impress your customers and interested parties with convincingly real-looking 3D product models and place them virtually in the middle of your exhibition stand, without any physical transport or set-up effort. or set-up effort. No one can get around this type of virtual product presentation ! With the IoT portal, in which your 3D models are securely stored, you are maximally flexible and always have access to your entire product portfolio. always have access to your entire product portfolio, from which you can conveniently load the corresponding virtual model onto the AR glasses as required. Through the The integration of animations or films makes the virtual product models even more exciting.
For advertising agencies, we offer AR solutions in a whitelabeling format, which enable agencies to expand their own portfolio. The inclusion of the latest AR solutions in the range of services means, on the one hand, the creation of an innovator image and, on the other hand, a new source of revenue with both existing and new customers. Innovative AR solutions can also be ideally integrated into the cross-sellingconcept, so that agency clients are served with an all-round package.
In addition, we offer individual partner models ranging from the classic tip and sales commission to new business models in which the agencies can offer the creation of the 3D models as an external service and profit from it. and profit from it.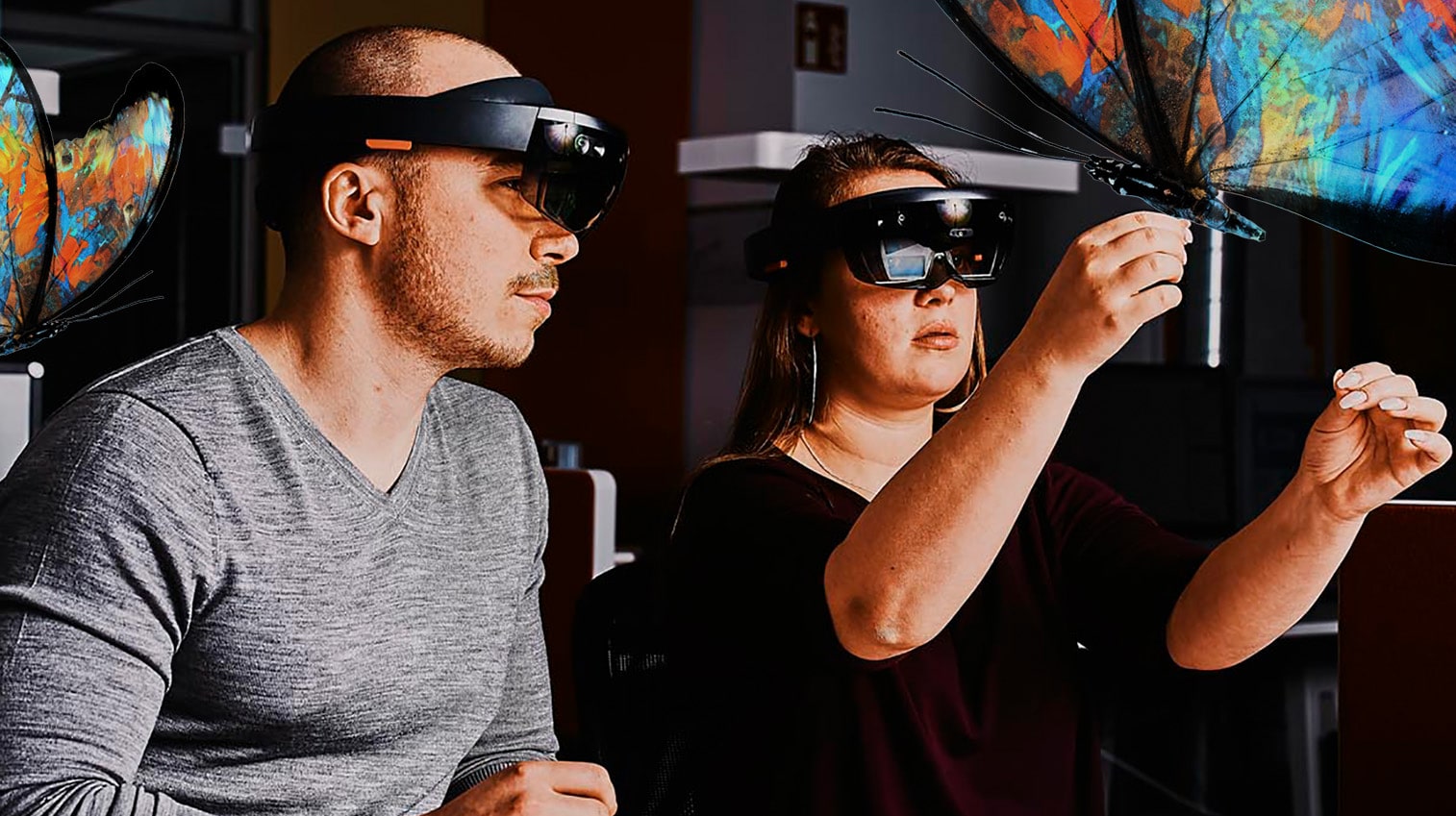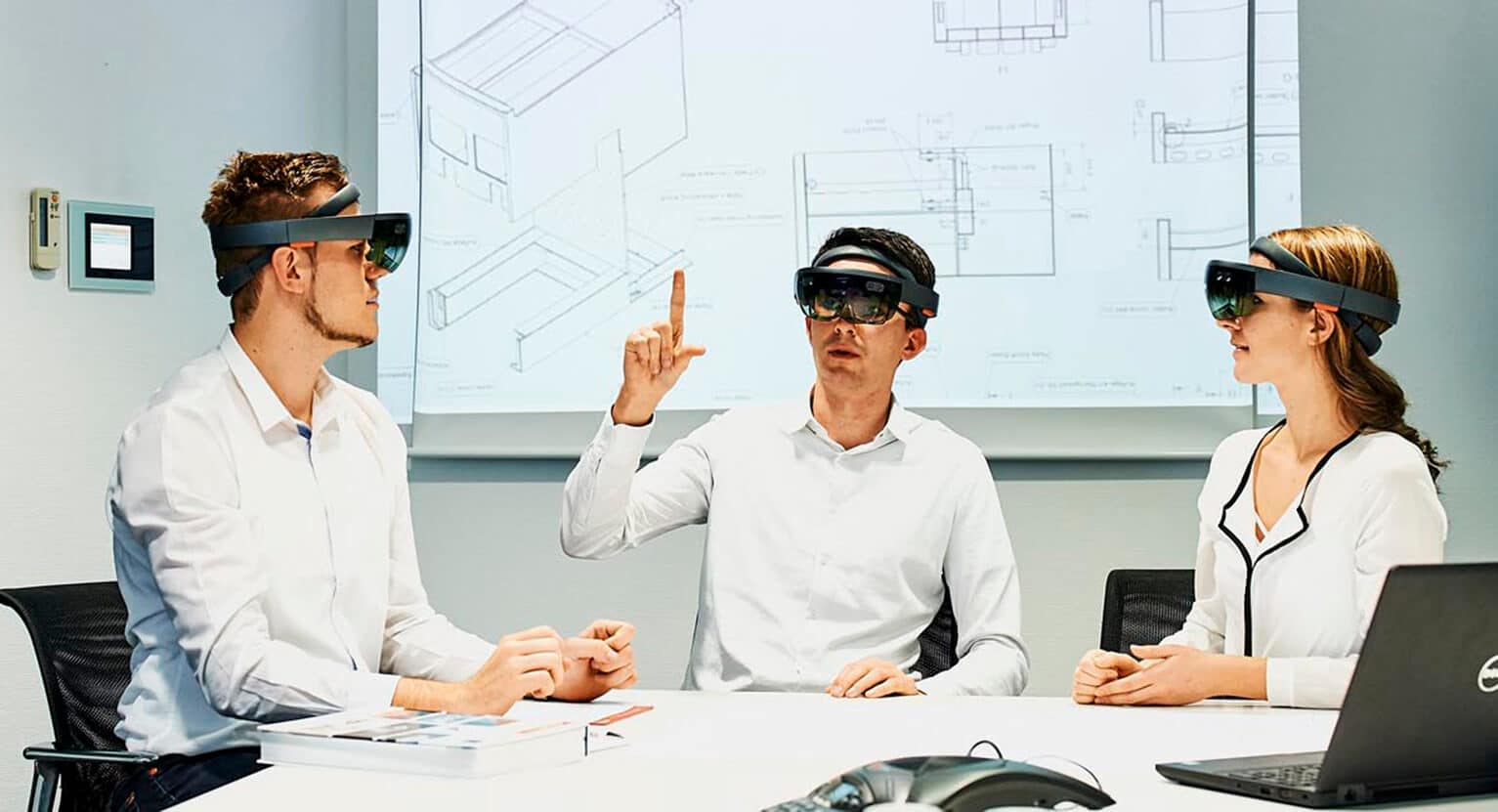 The augmented presenter ensures a streamlined design process by enabling the review of design plans at a very early stage of the project. The system including all subsystems can be viewed and discussed comfortably and easily via a virtual design review. This is done thanks to various simulation options, which enable an optimal match between customer needs and supplier proposals before and during the development process. High clarity, efficient design process and a product that satisfies the customer 100% are the results.
Get a preview of the future factory view through a realistic, detailed visualisation - that's what the augmented presenter does. By placing your product as a 3D model in real size directly in the production hall of your customer, you can see from the first moment how the offered product fits into the factory. You can quickly and reliably check whether all necessary connections can be reached and the assembly can be carried out without any problems. The result is optimised factory planning even before the order is placed and production starts.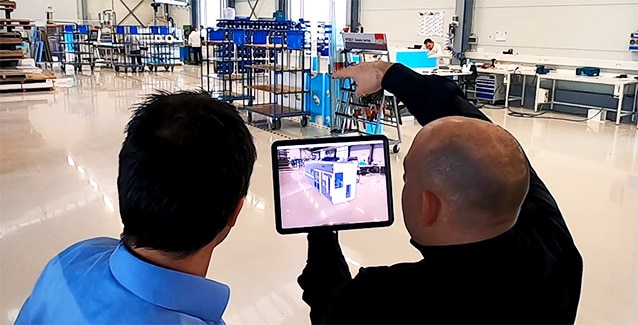 Training can take place anywhere and at any time and is no longer tied to the physical object, e.g. the availability of a machine. These can already be carried out before the delivery, so that your employees already have the knowledge and experience they need to ensure the full operability of your new system. of your new system. Language barriers can be overcome through the intuitive visualisation , which also contributes to the highest possible operational capability of your system.
A colourful mix of functions
in the tepcon product range
Questions? We are here for you!
Make an appointment directly in the appointment calendar:
Performance Award-winning
Read here in the case study "Augmented presenter - The path to customer added value in the sales and design process in mechanical engineering" how the use of AR can look in practice. can look like in practice.
The challenges of a machine manufacturer, the augmented reality solution approaches, the implementation in practice as well as the track record - augmented presenter at the company AP&S. International GmbH: compactly summarised, this insight is guaranteed to give you new ideas and impulses for your own, future AR path!